There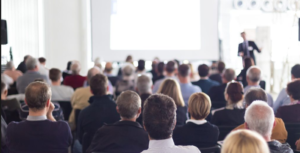 are loads of industry conferences and events available every year to like-minded people in your line of work to attend. They all look so good! Many have great marketing departments working hard to get you to come to their event over the others. So how do you decide which ones are worthy of your time?
Depending on your situation you may need to get the green light from your organization to attend in the first place. This can be compounded further by travel constraints and cost.
So, provided you can attend a conference, what is it going to take?
Cost
This is the first thing that anyone is going to see, the price tag. While you may have the sticker price for the conference there will also be incidental costs such as flights, food and hotel to consider. This total is what you will have to build the case around. It can be tough.
In most cases conferences provide early bird specials to reduce the cost which is nice. However, the drawback to this is that you will have to build the business case earlier. In some cases, not all the content has been posted, or speakers listed so getting a sense of value may not yet be available.
Location
Depending on where the conference is will have a big impact on the cost depending on where you are starting from. While it might be in a more expensive city, you may be able to drive each morning to get there only impacted by gas and parking. In other cases, it might be in your country but may be difficult to get to and require air travel and accommodations. In some cases, while a bulk cost may be set aside for the conference attendees for accommodation the rooms may get booked up quickly and you will now need to find an alternative hotel.
Time of year
When the conference is will also have an impact on cost if this is in higher season if you are requiring travel or not. Another important consideration from your business perspective is if anything else is going on at your company at the same time as you are looking to go. While a good conference is scheduled in September this might be the time of year that your organization works on its budget and getting away simply is not in the cards.
Content
The real reason you are looking to attend will be what you will learn or bring back from attending in the first place. Some conferences will boast potentially hundreds of sessions, but if you are only one person you may not be able to fully take advantage of the live content. This might be where attending as a team has an advantage, so that you can split up and then review the sessions you all saw after the fact. At some conferences you may also have access to the sessions that have been recorded to catch up on whatever sessions you may have missed out on. Most events will provide you the slide materials from all the presenters after or in some cases before to further help you make a call on what sessions to take in. The challenge in some cases, is without the context of the speaker the slides may be meaningless.
Speakers
Content aside, the speakers are the ones who are delivering the content and depending on the material finding those who are passionate enough about the material to convey it in a way that you get an 'aha' moment from them is worth the price of admission.
Networking
Conferences are a perfect chance to meet people in your field or similar fields who share the same interests and challenges that you and your organization might be facing. You will also get exposure to industry experts you can also shed light on the things you are looking to improve
Remember that no matter how experienced you may be, everyone can and learn. In many cases attending events like this may spark ideas or thoughts about a business problem that you may not have otherwise had the opportunity to.
So, what happens if you can't go?
After all the leg work what do you do when you still can't attend? There are lots of online resources that are available to you. Online conferences and webinars are information rich and allow you to network with people in a virtual way without cost. Don't discount social media, in many cases you can still follow along through social media as those in attendance will leverage tools using conference hashtags providing you some insight into what was going on at the event. You can also reach out to the presenters after the fact and ask questions and see what information they may be willing to share.
With all of that to consider what is the driving force to get you to a conference.