Whenever the topic of blog writing comes up, the question I get asked the most is, "Why do you do this in the first place?"
To explain why, we need to go back to the end of the last century – the year 1999. I had just finished my post-secondary education as a civil engineering technologist. As the final term ended, I had a gleam in my eye and I was looking to start a new career in the engineering / construction world. The unfortunate part was that, despite my enthusiasm, the economy was in the dump and this was going to further impact my chances of finding work. Not only was I competing for jobs with other students, but with professionals who had plenty experience in the field. I found myself to be a product of circumstance. After a while of being unable to find work in the profession I studied, I took on other work to be able to pay the bills.
Fast forward to 2006. In the seven years since my graduation the economy had seen an upswing. I had not held a Civil Engineering role of any kind in the seven years since graduating, so this wasn't going to be an option, but many employers were looking for people who had some type of post-secondary education and a willingness to learn. There were plenty of opportunities available and it was at that time I entered the world of IT as a service desk analyst. I was once again the product of circumstance; however, this time I was in the position to benefit from it.
Over the course of the next few years I broadened my skill set working in incident and problem management, and along the way picked up courses like ITIL foundations. Things were great but I found after a while that my new challenge was that I felt I had reached a plateau. Wanting to learn more I approached my employer about training but soon discovered that in the world of finite training dollars it seemed that the ITSM team was last in line for funds. It was like being the youngest sibling at a table with other IT teams who were fighting for the big piece of chicken.
At the tail end of 2009 the economy was once again taking a downturn. In the year that followed, the company where I was working had let some people go, which included a mentor of mine. While I had dodged the swath of the grim reaper at the layoff, I wanted to better position myself for any opportunities as they arose. This time I wanted to be a champion of circumstance.
My personal moment of realization was this: In some cases companies will make decisions that are beyond our control. However with every situation we have to look at it as an opportunity; the glass is half full. We need to market to our business how we can help them achieve their outcomes using our services. My personal challenge was that I was still trying to figure out how to do that, and in reality I still am today.
The first thing I did was reach out to a few mentors I had found along the way; their suggestions were obvious, but I needed to hear them for it to effectively sink in. They said that the nature of the beast is up and down. That I needed to inject myself in the conversation rather than ask for answers. For me, the way I decided to inject myself in the conversation was to write a blog post. In the beginning months I had very few readers. But as one mentor had explained, "it's not about the readership – it's about the process."
I did start the ball rolling in a direction to where people would challenge my posts and began dialog on information that was helping me stretch my understanding. I realized early on that this was a marathon rather than a race. Part of the process of sharing was gaining some clarity on my own ideas as I put thoughts into the posts. In effect I began to answer my own questions.
I soon realized that understanding followed this cycle: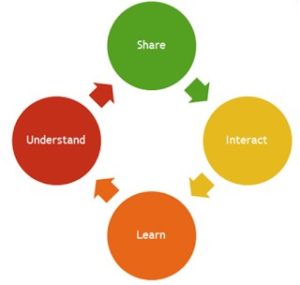 Share: Sharing information, posing questions, or looking for commentary
Interact: Gathering input from practitioners from all experience levels, from multiple lines of business and cultural backgrounds
Learn: To leverage discussions and information shared with others to store in my own knowledge locker
Understand: To see the bigger picture and apply what I have learned to my day-to-day work life
From there I had a responsibility to share what I had learned and begin the cycle again.
Many posts later I still am looking to broaden my understanding through this cycle of collaborating with service management folks. And I have expanded this sharing to those outside the IT space as we all look to improve the customer experience, which is what service management is all about.
You might be asking, "Where does this fit in for me?"
Everyone has experiences and insights that will add value. Everyone has, as I see it, an obligation to foster a culture of mentoring and knowledge transfer. Not everyone's method is writing a blog but figure out what works for you in your geographic or social media cohort. Being able to do this will ensure that organizations you work with will avoid otherwise inevitable and potentially painful knowledge gaps. Sharing with a larger community also allows you to work out so many of your own challenges using the experiences and insights of others.
Feel free to reach out to me if you have questions.