Integrated IT Service Management Essentials™
Upcoming course dates: Coming Soon
For Training classes for your organization Contact us today
ABOUT THE COURSE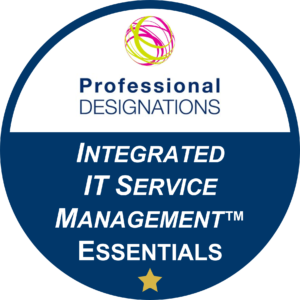 This certification provides IT professionals with the essential knowledge required to understand IT service management as a quality system as well as for ensuring IT services are provisioned for and support high standards of effectiveness, availability, and reliability – and produce results.
The certification focuses on an IT service management quality system model that includes the following major components: IT services and alignment with a business strategy; the subset of 10 core operational processes that are universal to all IT organizations; and the underpinning processes involved with continual service improvements that enable IT organizations to add ever-increasing business value.
The core IT service management processes included in the curriculum are:
Incident Management
Change Management
Request Management
Problem Management
Configuration Management
Service Level Management
Service Catalog Management
Release and Deployment Management
IT Asset Management
Business Relationship Management
IT Performance and Improvement Management
Integrated ITSM Processes
Upon successful completion of the course, attendees will understand:
A review of the IT service management system, which illustrates what it really means to align IT and business goals
How IT service management enables business value
The components of a process: inputs, throughputs/activities, outputs, metrics, and key interdependencies
Why it's important for IT professionals to understand "process management"
The IT service management quality system and its components: Direction, Execution (IT Relationships, IT Services, IT Support, IT Changes), Results, CSI
The 9 building blocks/components for establishing and managing the ten processes/capabilities above including: 1) Purpose/Objectives; 2) Policies; 3) Terms and Definitions; 4) Input/Outputs; 5) Activities/Throughputs; 6) Roles and Responsibilities; 7) KPIs; 8) Process/Capability Integration; 9) Technology
Operational IT metrics versus business metrics and why it's important to differentiate
WHO THIS COURSE IS FOR
This certification is suitable for anyone working in IT or in roles that interact with IT. The knowledge gained from this certification enables recognition of international terms and concepts used by supplier organizations including ITSM software services providers. Additionally, candidates whose organizations are seeking ISO/IEC 20000 certification will find this certification a compatible and valuable introduction to the standard.
Prerequisite: None
ABOUT THE EXAM
The exam is offered through Professional Designations Corp (PDC) and to obtain certification, attendees must write and pass the exam as follows. The exam is included in the course fee and will be ordered for you by Blackfriar Consulting.
Duration: 60-minute,
Questions: 40 question, multiple-choice exam will be scheduled and completed online
A passing mark of 65%
Questions? Contact us today We will respond promptly!