ITIL®4 FOUNDATION CERTIFICATION COURSE
ITIL®4 FOUNDATION CERTIFICATION COURSE
ABOUT ITIL® 4
ITIL4 has been designed to help organizations meet the increasing demand from the current complex digital environment. ITIL4 addresses these by making this update community-driven and identifying Agile, DevOps, and Lean as key focus areas for integration with traditional ITIL best practices. ITIL4 provides an end-to-end IT/digital operating model for the delivery and operation of tech-enabled products and services and enables IT teams to continue to play a crucial role in a wider business strategy.
ABOUT THE ITIL®4 FOUNDAITON COURSE
The ITIL4 course prepares students for the examination leading to the new Foundation Certificate in IT Service Management and enables students to understand a new way to look at IT Service Management through a Service Value System (SVS). ITIL®4 course covers a holistic end-to-end approach of IT contribution to business value, and also integrates concepts from models such as Lean IT, Agile and DevOps. ITIL4 also further develops the concepts of value, outcomes, costs, and risks, and it has a very strong focus on continual improvement.
The following is covered in the two-day ITIL4 Foundation course:
High level overview of ITIL v3's 5-step Lifecycle model and how the current 26 processes and functions map to the new ITIL4 model
The seven Guiding Principles of ITIL4
ITIL's new Service Value Chain
The four dimensions of Service Management
The 34 ITIL4 practices, with a focus on 18 of these
Key concepts from Lean IT, Agile, DevOps, and Organizational Change Management, and why these are important to deliver business value.
WHO THIS COURSE IS FOR
Anyone looking for IT Service Management education and an understanding of how to provide business value.
Anyone who is looking to upgrade their ITIL v3 certification and knowledge.
Prerequisite: None
IF YOU ARE ALREADY ITIL V3 or ITIL 2011 FOUNDATION CERTIFIED
Due to the structure of ITIL4 Foundation, there is no specific transition module at the Foundation level. There is a large amount of new material in the ITIL4 Foundation therefore there is a single exam to assess learners knowledge of the new ITIL4 Foundation guidance. We encourage you to join this 2-days course to obtain a full comprehension of the new ITIL4 concepts.
ABOUT THE CERTIFICATION EXAM
A 60-minute, 40 question, multiple-choice exam will be scheduled and completed online
A passing mark of 65%
ABOUT ITIL 4 CERTIFICATION SCHEMA
The rest of the ITIL®4 courses are introduced in late 2019, there will be a "bridging" course available to those individuals who have acquired 17 credits in the ITIL v3 certification scheme. IT professionals are encouraged to continue to participate in the v3 certification program. The ITIL Certification Scheme comprises of the following levels: ITIL Foundation, ITIL Specialist modules : (1) ITIL Strategist, (2) ITIL Leader, (3) ITIL Master. One of the main characteristics of the new ITIL®4 certification scheme is that it is now formed by two different designation streams; ITIL Managing Professional (ITIL MP) and ITIL Strategic Leader (ITIL SL). These two streams are intended to provide end-learners with greater clarity about how and where they can improve their skills and set them apart from peers.
At the end of this course, participants will be able to:
Understand the key concepts of ITIL service management.
Understand how ITIL guiding principles can help an organization to adopt and adapt ITIL service management.
Understand the four dimensions of ITIL service management.
Understand the purpose and components of the ITIL service value system, and activities of the service value chain, and how they interconnect.
Understand the key concepts of continual improvement.
Learn the various ITIL practices.
Questions? email us: ryanrogilvie@blackfriar.ca. We will respond promptly!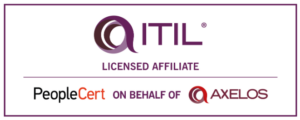 ITIL® is a registered trademark of AXELOS Limited, used under permission of AXELOS Limited. All rights reserved
Next Steps
Ready to get started? Contact Blackfriar Consulting for a free consultation to discuss our consulting services which can be tailored to address your specific challenges.